Third year undergraduates of the Department of Electrotechnology (DET) of Faculty of Technology (FoT) recently designed and built a grass cutter.  This machine is an alternative to conventional lawn mowers and bush cutters. More importantly, this machine can be operated wirelessly by a person, who is several metres away from it.  It has a sensor-based system for detecting obstacles and an object detecting system with a live feed for the operator for the safety of the machine and that of the people in the vicinity of the machine.  The battery of the power unit can be charged by either AC power or solar power.
This project is a collaborative effort of three teams who worked on developing (i) power unit and wheels (ii) motor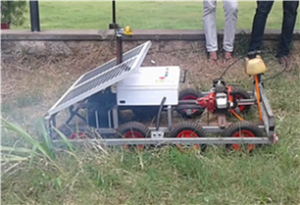 driver circuit, sensor-based safety system, lighting circuit, cutting blade system and engine mounting platform (iii) transmitter and receiver circuit, camera controlling unit, the main processing unit of the machine.  The project was supervised by Mr. Hasitha Eranda Bandara, Mrs. Shyama Wickramasinghe and Mr. Sampath Ediriweera under the guidance of Dr. (Mrs.) J.M.J.W. Jayasinghe, Head, DET and Dr. A.M.N. Alagiyawanna, Acting Dean, FoT.  Financial support given by the university to cover the expenses of electronic components, materials and accessories is acknowledged.